2000 - Foundation
The members of epic doom metal band DOOMSHINE from Southern Germany know each other since at least 1990, but only 2000 that they start making music together.
With Markus Schlaps on drums, Sven Podgurski on guitar, brothers Timmy and Sascha Holz with Timmy on guitar and Sascha on vocals, joined soon by Carsten Fisch on bass they initially start under SLEEP WITH THE DEVIL moniker. Sven at that time plays at Spiral Tower and before already at TRAGEDY DEVINE and VARIETY OF ARTS. After writing first songs they play their first gig in Marbach, in October 2000. Soon after that Sascha leaves the band and Timmy takes over the vocal duties.
2002 - First studio recordings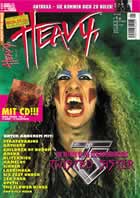 In 2001, the band decides to change their name to DOOMSHINE. The first gig under the new name follows on March 28th 2002 at Club II Rockfabrik in their hometown Ludwigsburg.
In the summer of the same year the band enteres the studio to record "Shine on Sad Angel" and "Where Nothing Hurts but Solitude". The first song is being chosen by the editors of "Heavy oder was?!" the later "Heavy" magazine to be featured on "Metal Crusade V" compilation coming with the December issue.
Starting from September 2002 the band offeres "Shine On Sad Angel" for download on their homepage. "Where Nothing Hurts But Solitude" follows November 2002.
February 2003 - Opener on first DSR

Still without having any release of their own, on February 7th 2003, DOOMSHINE open the first edition of the meanwhile legendary Doom Shall Rise festival. They share the stage with FORSAKEN, REVEREND BIZARRE, REVELATION, THUNDERSTORM, OFFICIUM TRISTE, SEMLAH, DAWN OF WINTER, MIRROR OF DECEPTION, WELL OF SOULS, DREAMING, VOODOOSHOCK, and others. Vampster Review
Two more shows follow that year.
June 2003 - Deal with Iron Glory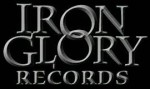 In June 2003, DOOMSHINE sign a contract with Iron Glory Records for the release of their debut album. Vampster News
August 2003 - Single at Metal Supremacy
Before the debut album is ready though, in August of the same year, Metal Supremacy releases a 7'' vinyl single entitled "Shining in Solitude", featuring the first 2 songs recorded by the band: "Shine On Sad Angel" and "Where Nothing Hurts but Solitude". Vampster News
Juni 2004 - Debut album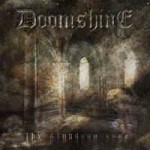 Their highly acclaimed debut album "Thy Kingdoom Come" is being released on CD on June 28th 2004 through Iron Glory. LP version was released later that year by Immortal Vinyl Records and featured an exclusive bonus track, "Trouble Fire". The album reached 5th place on the "Rock Hard" magazine charts. DOOMSHINE was then voted on rank 11 of the best newcomers in 2004 by the "Rock Hard" readers.
September 2004 - First gig abroad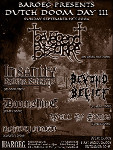 2004 marks also increased live activity of the band. They play 8 gigs, including one with SACRED STEEL and TANKARD, as well as their first show abroad at Dutch Doom Day III festival in Rotterdam, on September 19th, together with REVEREND BIZARRE, BEYOND BELIEF, WELL OF SOULS, among others, as well as a local fest in Stuttgart, Banging the X-mas-Tree.
February 2005 - Deal with Massacre Records
As Iron Glory is going out of business, in February 2005, DOOMSHINE sign a record deal with Massacre Records, who distribute the debut and recognize the big potential and great sales results the band gets. The band expects to have their second album out in 2006, however in the end it takes much longer than originally planned.
April 2005 - Second gig abroad
On April 23rd 2005, DOOMSHINE participate in another important doom metal event abroad: Belgian Doom Night III in Gent. This time they play with COUNT RAVEN, PLACE OF SKULLS, THE GATES OF SLUMBER, OFFICIUM TRISTE, PALE DIVINE, MIRROR OF DECEPTION, ESOTERIC, RISING DUST and ATARAXIE.
The next festival appearance of the band is at the Metal Bash festival on July 30th of the same year. In October 2005, they play at the 15th anniversary party of their friends from MIRROR OF DECEPTION. On November 26th another festival gig follows at Ragers Elite.
2006 - 2007 - Recordings for the second album
DOOMSHINE wrote most of their songs for the sophomore album in 2005. However then they slowed down quite a lot for personal reasons, mostly work and family. Drums and bass are being recorded during several sessions in 2006 at the band's bassist, "Carsten Fisch Studio". For the same reasons the band doesn't play live much during the next years. On July 16th 2006, DOOMSHINE has a gig at the Metallic Noise festival.
In 2007 recordings for lead and backing vocals follow, also at "Carsten Fisch Studio".
On July 21st 2007, they perform at the 3rd edition of Hell's Pleasure Metalfest, with bands like ANCIENT RITES, DESASTER, MORTUARY DRAPE, ZEMIAL, NECROS CHRISTOS, EARTH FLIGHT, RAVEN BLACK NIGHT. And on November 24th of the same year, DOOMSHINE play at a small fest in Dortmund, Days of Doom, together with MIRROR OF DECEPTION, ISOLE and TORTURED SPIRIT.
2007 - 2009 - Mix and artwork for the second album
During the very rare spare time in 2007, 2008 and 2009, Carsten works on the mixing, and then on the cover art and CD layout..
In 2008, the band travels to Switzerland to play at Dawn of Doom II Festival. The billing of this 2-day fest on November 14th-15th includes LORD VICAR, MIRROR OF DECEPTION, WALL OF SLEEP, PHASED, GRIEF, STEREOCHRIST, DREAMING, RISING DUST, OPHIS, BLACK SHAPE OF NEXUS and a few other acts.
In 2009 they play just 2 gigs: in February at Monastic Doom XVIII amongst others with GORILLA MONSOON and in May at Doom in Bloom with MIRROR OF DECEPTION and four other bands.
April 2010 - Doom Shall Rise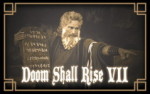 On April 10th 2010, DOOMSHINE returnes to the holy doom metal chapel in Göppingen... They play on the second day of the revered Doom Shall Rise festival and share the stage with NOMAD SON, ISOLE, MOURNING BELOVETH, SEAMOUNT, THE 11TH HOUR, MAGMA RISE, UNSILENCE, 40 WATT SUN, RITUALS OF THE OAK, JEX THOTH and others. During the song "Where Nothing Hurts but Solitude", doom metal veteran and the band's friend, Leo Stivala of FORSAKEN makes a guest vocal appearance.
The band plays one more show in September 2010, together with EARTH FLIGHT.
Juli 2010 - Second album release
Almost exactly to the day, 6 years after their debut album, on July 2nd 2010, the second album "The Piper at the Gates of Doom" is finally being released through Massacre Records. While its title is a clear reference to the PINK FLOYD debut from 1967, musically it's pure epic doom metal in the vein of SOLITUDE AETURNUS and CANDLEMASS again, while the lyrics are quite critical and cynical, and focus on the darker shades of mankind.
The album was mastered at the Red Room studio by Andy Horn (HALFORD, ROB ROCK, MAJESTY, EXCITER, MANTICORA, EDENBRIDGE, LIV KRISTINE...). Apart from 9 original songs, the album features a cover version of MIRROR OF DECEPTION song "Vanished", showing the loyalty within the doom metal scene. "The Piper..." garners many rave reviews and lands on the 2nd position of the monthly "Rock Hard" magazine charts.
2011 - Vinyl version of the second album
Later on, in 2011, Immortal Vinyl Records releases it on wax as a 2LP gatefold edition.
On April 15th 2011, DOOMSHINE perform at Metal Inferno Festival, and later that year play three more gigs amongst others with SLOUGH FEG, REAPER.
2012 - Songwriting third album
In 2012, the songwriting for the yet untitled 3rd studio album commences. On March 10th 2012, they have a show at the first edition of the German Swordbrothers festival, together with ROXXCALIBUR, ALPHA TIGER, ETERNAL REIGN and IRON KOBRA. They also play a gig with BLACK ABYSS in April.
2013 - Malta Doom Metal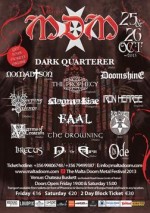 Song writing for the second album is being continued. The basics and the skeletal structures of six songs are being finished by the end of the year.
DOOMSHINE plays only one live show in 2013, however quite a prestigious one. The band is being invited to Malta for the VI edition of Malta Doom Metal VI festival, which takes place on October 25th - 26th. They share the stage with DARK QUARTERER, NOMAD SON, THE PROPHECY, IRON HEARSE, MAGMA RISE, THE DROWNING, FAAL, VICTIMS OF CREATION and a few other bands.
And like in 2010 at DSR VII, they have a special guest on stage: Leo Stivala from the Maltese epic doom masters FORSAKEN again grabs the mic to sing "Where Nothing Hurts...". It is a triumphant show and definitely one of the highlights of this festival. It is also there where the band meets again the two traveling metalheads from Metal On Metal Records.
Januar 2014 - Deal with Metal On Metal Records
It doesn't take long after the last meeting for DOOMSHINE and Metal On Metal Records to reach the agreement for releasing the next opus of the band. The contract is being signed in January 2014, at the time when the band is composing the 7th and last song for their next album, scheduled for an early 2015 release.
April 2014 - Recordings for third album
In April 2014 the band starts recordings for the third yet untitled album. Mixing and mastering shall be finished until the end of the year ... At least that is what we hope for!
How will their 3rd album sound like? According to the band: "The variety is huge, that's for sure. From slow devastating Doom to faster Heavy Metal..." while "Lyrically it will be the opposite part to the "Piper" album. More light, more optimism and a lot of positive thinking. But don't worry, the lyrics won't be happy or funny, it's just that positive vibe you hopefully will feel."
August 2015 - Third album release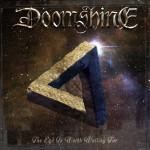 On August 31st.2015 the third album with the title "The End Is Worth Waiting For" gets released by Metal On Metal Records.